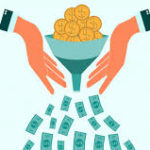 To Learn How To Make $10,000+ Per Month… You Go  To School For It…
       Class Is Now In Session!!!
Hey Kevin Pritchett here
  If you wanted to become a doctor what would have to do…?
                  Go To Medical School
   If you wanted to become a lawyer what would you have to do…?
                       Go To Law School
   Likewise if you want to learn how to make $10,000/month what would you have to do?
                    Don't say Business School…
NO WAY you'd learn how to  THERE??!!!
   If you want to learn how to make $10,000/month from home ……..
                         You mentor 1 on 1 with someone…
                            who is doing it RIGHT NOW
    Since you're on my list, and since you opened this email
it appears at least  that you are serious about learning how to make your first $10k from home.  Here's a question I have for you….
                             How Badly Do You Want It?
Are you serious about starting, growing and scaling your online business?
Are you  committed to  get  to a $5k – $15k per month potential
earning income in the next 90-120 days?
Are you serious about investing time, energy, effort, capital
to grow your existing  efforts and become a Top Earner?
Everyone Who Makes Money Started With A
FREE Kickstarter Coaching Session With Me
Every one and I mean EVERY SINGLE ONE of my team
who makes money first started with a 20 min FREE coaching call with me…makes no sense for you to go out in the jungle all alone!!
Before I can help you I need to know EXACTLY where you are,
what your challenges are and how I can best help you.
CLAIM Your  FREE  20 minute 1 on 1 Income Kickstarter Call With me:
   If you're NOT interested or motivated enough to apply for a FREE 1 ON 1 COACHING SESSION with a multiple 6 figure earner….you're not serious!!!
    As always if you have questions, unlike other marketers –
I will reply back to your email to me – we're here for you.
   I  can create a custom designed plan for you…if you tell me
what you need and so I can know how best to help you.
Remember….
"Its your life…make it Extraordinary!"
Kevin Pritchett
 P.S.  Want to DRAMATICALLY increase your chances of
–