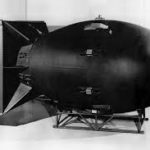 Hey  Kevin Pritchett here:
Do you know what that picture is?
That my friend is a picture of the very  first atomic bomb…nicknamed "Fat Man'
A plutonium implosion weapon or 'the gadget' as the scientists at  the World War II Los Alamos atomic bomb project called it.
19 Months To Achieve The 'Impossible'    
Some of the most brilliant scientists on the planet had a mere 19 months to:
==  ask, and solve the most complex scientific problems in the
history of mankind
== devise, create and implement the experiments
necessary  to validate their  theoretical conclusions
==deliver an operational weapon to the US Army in time to
defeat the Germans and Japanese and win WWII
All under the crushing 'life and death' reality and the resultant unfathomable pressure that……
if they didn't come up the with bomb first…the Germans might!!!
19 Months…incredible…and they did it.
You know how they did it…..
BECAUSE THEY HAD TO…
BECAUSE THEY MADE A DECISION THAT NOTHING WOULD STOP THEM
They literally THOUGHT it into creation!!
Failure was not an option...to quote  Apollo 13 flight director Gene Krantz
Now….
Take a deep breath and imagine for a moment…..
What If YOU  Had 19 Months To Learn To Make $10,000 Per Month?
What if YOU had 19 months to learn what you needed to learn to make $10,000 a month..heck lets make it $5,000 a month.
==what would YOU be willing to do…
if you KNEW you could not fail?
==what would your life look like if you could
    give yourself, your spouse, your family
EVERYTHING  you ever wished for
==what would your life look like if you could   create an income
that made you financially free  forever!!!
Wouldn't the upside be worth whatever it would take to get overcome cynicism and fear and take action?
Compared To The Atomic Bomb…Making Money Is Easy!!
Unlike building the world's first atomic bomb… in a life and death wartime  scenario….
The answers to making $10,000 or $5,000/month from home  are VERY WELL known.!!
There's a proven formula,…(I've given it you in every single blog post here on my blog….
And a guide (that would be me) available weekly, monthly that's  here to help you…to show you EXACTLY how to achieve your objective.
Your 'solution' to achieve your personal 'atom bomb project' is
CLICK HERE TO JOIN THE GOLD INNER CIRCLE MONTHLY MEMBERSHIP
Gold Inner Circle Membership
==step by step blueprint to creating your own high converting sales funnel
==weekly video lessons
==monthly 'how to pull it together' webinars
==members only Facebook group to ask questions
==30 Day 'No Questions Asked Guarantee…RISK FREE to you
==Free Bonuses
7 Figure Rolodex of Sources & Tools
Free Traffic Sources
Paid Traffic Sources
How To Become Unstoppable Training (just added)
Copywriting Headline and Power Words Template (just added)
==six figure (soon to be 7 figure) mentor to show you EXACTLY what to do
so you're NEVER alone (think of me as the J Robert ppenheimer of  making money online!!! lol)
==only $47/month
(less than $1.50 per day to learn to make $10,000/month !!!!
CRAZY GOOD VALUE!!
What Would Your Life Look Like? 
Now..with all these tools  and a personal mentor to help you
don't you think your odds of success skyrocket?
OF COURSE THEY DO!!!
What would your life look like if you were making
$10,000/month…$5,000/month?   
What could you do for yourself…your family?
What are YOU willing to do make this YOUR reality?                                        
Here's how a former 80-90Hr/wk truck driver changed HIS life…
 I have many mentors in my journey but I must say I have
definitely received some of the best mentoring from you.
You have an excellent way of training that makes it easy
and fun to learn… I am pleased to say that due
to you teachings i have gained 60k in revenue
in my ventures…not to mention what my team…has made.
The best part is the value and support you give…
Jeff & Janet Grenier                                        
There's NOTHING That Can Stop You….
   NOTHING and I mean NOTHING can stop you
from earning whatever you want…as long as YOU:
==MAKE A DECISION THAT NOTHING WILL STOP YOU-(on
you…)
==FOLLOW A PROVEN BLUEPRINT( you got THAT too in GIC)
==TAKE THE REQUIRED ACTION (again…on YOU!)
If the most challenging technical and scientific problems mankind has ever known can be solved in 19 months…..
You making $5,000 or $10,000 per month is a piece of cake…
All you have to do is DECIDE…AND ACT RIGHT NOW!
It's the DECISION and COMMITMENT that created the atom bomb in 19 months…..
And its YOUR DECISION AND COMMITMENT that can create the life you desire!!
CLICK HERE TO JOIN GOLD INNER CIRCLE
You are so very close…NOW GO ALL THE WAY!!
BTW…
Did you decipher the 'unstoppable key to success' implanted within this post?
Tomorrow…..
Remember…..
"Its your life….make it Extraordinary!"
Kevin Pritchett

aka The J Robert Oppenheimer of Making Money From Home!!