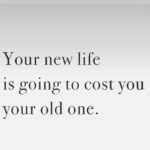 Hey Kevin Pritchett here:
       I want you to think on that sentence above…I mean REALLY THINK about it.   In every area of life you seek to change, in order to get that
change you have to stop doing the things that don't work in order to take on
 the things that get you your desired result.
For example
==   to lose weight you stop eating burgers and fries and start eating greens
==   to deal with an abusive relationship you must first adjust YOURSELF
and stop allowing that person or ANYONE to abuse you,  give up the
abusive person,  make peace with being alone for a time  and  make a         new space for a new companion
==   to improve your career you have to move past your old outdated set of          skills  and acquire new ones
    And on it goes in all areas of human endeavor……
              .  You CANNOT acquire new while clinging to the old.
Singing Or Piano
     Right now I'm experiencing this very phenomenon in my musicianship.
For 40 years..yes 40 YEARS, I've sung choral classical music.  I've become pretty darn good now…
==  I perform with 2 semi-professional ensembles; often with a world class
orchestra.
==  I've completed a number of professional recordings and numerous tours
     I started studying the piano when I was 30 but  I have not developed that skill as much as I've developed singing.  However, after 40 years, I'm finding I want to play piano (jazz, rock ) more than I want to sing.
     Here's the rub…..I'm a WAY better singer than I am piano player..and
its HARD giving up the high a caliber musical ensembles I
perform with and begin my learning curve at a much lover musical level with the piano.
But the TRUTH for me is I no longer desire to sing and
the longer I ignore that calling, the more out of alignment I will be and unhappy and unfulfilled musically. I will be.   The new musical life I desire
will cost me my old familiar musical life.
You Must Choose:
Familiar and Unfulfilling  or Unknown and Authentic
      And the same for you!!
      If you desire a different, better , more fulfilling life….
You're MUST give up the tired, old, unsatisfying life you now lead.
The irony of it is…there's SO MUCH of your life you desperately desire
to change…but you just won't.  For example
You hate being broke….
You hate being afraid of layoffs
You hate not having the money to travel, buy what you want, care for your family…
But you're unwilling or afraid  or just plain too stubborn to give up the old
and embrace the new possibilities….WHY IS THAT????
You use cynicism as a defense mechanism
       "That crap doesn't work anyway….."
    Yet you continue to open my emails (and God knows how many other emails you frantically sign up for in the vain search/more like wishful
thinking  for 'the magic bullet".  My friend…THERE IS NO MAGIC BULLET.
          The truth is IT DOES WORK!!
In fact, …..there's NEVER BEEN A BETTER TIME TO START A HOME BASED BUSINESS ONLINE.
     Me and my students prove that day in and day out.
      But that's not even the point is it?
The point is until or unless you are prepared to 'step up'
and GIVE UP YOUR OLD LIFE IN ORDER TO EMBRACE A NEW ONE….
     Nothing that works will work for YOU….
and NOTHING will change for YOU….ever!!  And that's pretty damn scary and sad and so very unnecessary.
    Let me ask you this one critical question:
Is the upside possibility of what you want as your life

(living life on YOUR terms in all respects)…
worth the cost  (time, money, change, new skills ) of
doing what you need to do to change it? 
   You CAN learn to create a full time income for yourself
   You CAN become the YOU you always wanted to be
It DOES work and it can work for you!!!
I'll show you how but you must take the first step…..
This is YOUR FREAKIN LIFE…RECLAIM IT!!
Remember……

"Its your life….make it Extraordinary!"

Kevin Pritchett