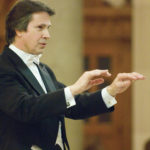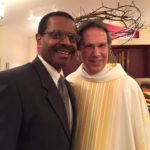 Hey Kevin Pritchett here
   You're probably wondering who the heck
this guy is in the pictures ( uh…the OTHER guy….so glad you asked!!)
Father (Maestro) H
    The gentlemen in both pictures is  my friend Fr. (Maestro) H
Fr. H (Maestro) conducts the 130 voice Classical music vocal ensemble I sing with.
    Maestro also founded and conducts anther Orchestra…and at one
time was Maestro of yet another high power orchestra where he also served for many years as that ensemble's  Concertmaster (first chair violin…the most prestigious position of all for an orchestral musician.
Guess What He Did At Age 70?
    Maestro has received numerous awards for his excellence in Orchestral and choral conducting and is regarded as one of the finest conductors in the country.
He regularly guests conducts all over the U.S. and in the great concert halls of Europe.
     With all that critical acclaim you know what Alan did at the tender age of 70 …..???
===he quit it all (except for conducting the 130 voice choral group
===went to Seminary to become an Anglican priest
===got straight A's in seminary (dang!!!)
==  was ordained a Deacon last October 2016
==was just ordained a Priest this past February 2017 (the lower picture  is of Rev Maestro and I at his ordination where I had the honor of reading the  Old Testament Bible lesson)
==he and his wonderful wife and partner Gayle, started a church and hold services in their home every Sunday morning and hold
    Bible study and Evening Prayer every Sunday evening at a local church that donates space  for the Fellowship evening Bible Study and Evening Prayer.
==and top of everything else…he and Gayle 'took in' their dear friend  who has Parkinson's disease and care for her in THEIR home….
What Does All This Have To Do With YOU?
Why am I sharing all this with you…what does it have to do with YOU?
                                          EVERYTHING
Rev Maestro 'H" is the most authentic human being I've ever known.  He dropped almost EVERYTHING the world said was of value and of prestige in order to follow his heart…his calling…to be his most authentic self!!
Trust me, winding up the Orchestra he founded and stepping down from the other Orchestra represented a HUGE loss of income…
.IT COST HIM SOMETHING MATERIALLY
TO BE TRUE TO HIMSELF…
But it would have cost him FAR more to turn his back
on his calling…his soul if you will
He Belied In Himself…DO YOU?
DESPITE WHAT HE HAD TO DO…..
HE BELIEVED IN HIMSELF AND HIS
VISION ENOUGH TO FOLLOW HIS HEART AND
DO WHAT WAS REQUIRED.
Here's my question to you…….
ARE YOU LIVING YOUR BEST TRUEST SELF?
ARE YOU LIVING YOUR AUTHENTIC LIFE?
If not….why not?
If you're letting money…or more probably, the lack of money
be the reason you're living a life of quiet or not so quiet desperation….
then SHAME ON YOU!!!
Never has it been easier to re-create yourself….
Never has it been easier to create income on YOUR terms
But here's the dealio…..
NOBODY'S GONNA SAVE YOU…YOU GOTTA DO THE WORK!!!
If you've been seduced into thinking me or anybody's gonna give
you a 'do it for you..push button, ready made solution……YOU'RE DREAMING~!!~
YOU have to learn how to decide who your Perfect Customer is
YOU have to learn how to tell what they desperately want
YOU have to learn how to build and implement a high performing sales funnel
YOU have to take direction and implement what a mentor shows you
YOU have to create engagement with YOUR customers
YOU have to show them YOU care and can actually help them
NOBODY'S GONNA SAVE YOU…YOU GOTTA DO THE WORK!!!
All I can do is lay out what you gotta do…a HUGE advantage I might add…
because at this point you don't even know what you don't know!!
IF YOU'RE WILLING TO BE AS COMMITTED TO YOURSELF AS
MY FRIEND ALAN IS TO HIS LIFE…..
(you don't have to go to seminary…but you MUST make a decision
that you're sick and tired of not living your highest life
and you MUST make a commitment to do whatever it takes to learn what you need
to learn and IMPLEMENT IT….
Then I'm ALL IN here to help you……
Ok.. This Is What You SHOULD DO RIGHT NOW….
If you haven't already, COMPLETE THESE STEPS RIGHT NOW :
STEP 1  
STEP 2:
(sorry…you missed your chance to get my Beginners $1500 Bootcamp 2.0 for FREE)
Don't Worry If You Don't Have An Offer Yet
Don't worry if you don't have an offer yet..
when you are ready…I'll show you EXACTLY
which  high performing offers to promote THAT
CAN MAKE YOU $1,000, $2500, $5,000, $10,000 per sale.
But You MUST Do YOUR Part
   However, while I'm 'all in' for you….I absolutely  insist on you doing YOUR part and will not tolerate excuses, laziness or lack of integrity.
Be lazy and broke if you want, but you won't get any sympathy
.or  time from me…guaranteed!
    Make no mistake, I LOVE making sales and my income from
my business has created an enviable lifestyle for me and my
students (and can for you too if you implement what I teach you)
      But I'm here …and will be here to help.  I LOVE
what I do and am dedicated to helping you …..
as long as you do YOUR part.:
==make a decision that NOTHING will stop you
==implement what I teach you.
Don't Let Your Temporary Circumstance Control You Permanently
Your circumstances are TEMPORARY….don't make
being temporarily  broke become a PERMANENT  condition!!!
You can CERTAINLY afford $47/month…for Gold Inner Circle..
I made that program SUPER AFFORDABLE so ANYBODY could
start from where they are and learn…what they need to earn $10,000/month.
The only reason you wouldn't invest $47/month,…
-or more
In YOURSELF is because….
1.  You don't believe  I can help you (testimonials and my own success disproves this)
2. You don't believe in YOURSELF…
Ok..enough …..
NOBODY'S GONNA SAVE YOU…YOU MUST DO THE WORK
Remember….
"Its your life…make it Extraordinary!"
Kevin Pritchett
P.S.   Ok.. This Is What You SHOULD Do RIGHT NOW….
If you haven't already, COMPLETE THESE STEPS RIGHT NOW :
STEP 1  
STEP 2: